The Nisqually River Education Project, South Sound GREEN and Chehalis Basin Education Consortium are offering the first ever Climate Resiliency Fellows. This program aims to build a dynamic community of engaged teachers committed to engaging their students in learning about and taking action in local climate change issues and climate resiliency projects. The Fellows program is offered as a part of a 3 year, environmental literacy program supported by NOAA. Teachers in the program meet quarterly to receive curriculum support and brainstorm ideas for action projects that address local issues.  Matt Samson of Hansen Alternative Program is one of our participants this year and has been actively getting his students engaged with the outdoors. Thank you, Matt, for telling us about your year so far! 
I graduated from the Evergreen State College with a Masters in Teaching in 2002.  Part of the graduation requirements included writing a thesis on a topic relevant to education.  It was a no-brainer.  I picked environmental education.  It seemed to me at the time (now 15 years ago) that deforestation and fossil fuel combustion were known dangers and that we, as teachers, had a duty to educate our students about them.  In my research, I found that the best way to teach kids about nature was to take them outside: field trips; field trips; field trips.  Even though this may seem obvious, I found that there are a few tips and tricks to get those kids the field experiences they need to grow into tomorrow's environmental stewards.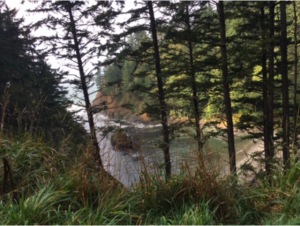 First, Olympia is a great place to get free field trips. Many of the state agencies and local environmental groups have line-items in their budgets for education.  To name a few: the City of Olympia Parks and Rec, LOTT, South Sound Salmon Enhancement Groups, GRuB, Billy Frank Nisqually Wildlife Refuge, South Sound GREEN, and Nisqually RIver Education Project.  These groups have all provided me with free environmental education field trips over the years.  This town is also full of free curriculum and trainings: Project WET; Padilla Bay National Research Reserve; Project Learning Tree; and the Summer Teacher Institute (hosted by South Sound GREEN, Nisqually River Education Project, and Chehalis Basin Education Consortium).
Second, I learned to bring the field trip to the classroom.  Many parents, grand-parents, aunts, and uncles have worked as experts in the field as scientists and policy makers.  I have had parents who were guest-speakers from the Department of Transportation, NOAA, Department of Ecology, Department of Fish and Game, water quality monitors from Thurston County, professors from the Evergreen State College, University of Alaska, Fairbanks, SPSCC South Puget Sound Community College and more.  They were willing, more often than not, to come and give talks, PowerPoints, and show off the tools of the trade.  (I did have a strange conversation with a glaciologist about bringing an ice axe into school).
Finally, the school yard is the perfect location for field studies and action projects.  Over the years, we have sat outside to read.  This alone fosters a love of the outdoors in kids.  We have done "safaris" looking for birds, trees, berry-bushes, salamanders, and frogs.  We have done leaf rubbings.  We have created dams out of rocks and flooded them with water.  To study erosion and glacial moraines, students scoured valleys in the dirt with their glaciers: five pound blocks of ice.  "Be the glacier!" is what we chanted as we scraped rock and dirt.
If we leave environmental education up to the budgetary whims of our schools and our policy makers in Olympia and Washington D.C., our kids won't receive the experiences they'll need to learn about, and care about, or act on behalf of the environment.  But if we get creative–following these three easy steps–we can have rich and recurring environmental education anyway.