The Nisqually River Education Project, South Sound GREEN and Chehalis Basin Education Consortium are offering the first ever Climate Resiliency Fellows. This program aims to build a dynamic community of engaged teachers committed to engaging their students in learning about and taking action in local climate change issues and climate resiliency projects. The Fellows program is offered as a part of a 3 year, environmental literacy program supported by NOAA. Teachers in the program meet quarterly to receive curriculum support and brainstorm ideas for action projects that address local issues. Charlie SittingBull is a teacher at Salish Middle School and one of our Fellows participating this year. Here, she shares her class' experiences with monthly outdoor reflections at their Sit Spots.  Thank you, Charlie, for a great blog!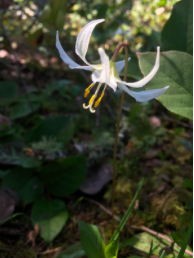 Once a month, students in Mrs. SittingBull's 7th and 8th grade science classes at Salish Middle School make the silent and steady trek out to their sit spots. Rain or shine, every month they have a different objective. No matter if they are listing observations and inferences, sketching something biotic, or writing a haiku about the weather, they go to the same quiet place in the woods, where they can feel alone and have time to contemplate, observe, and reset.
A Sit Spot can become like an anchor in your life — a place to settle down, cultivate present-moment awareness and a quieter mind, and to observe the flow of reality occurring around you. It's also a place where you can notice what the animals are up to. Over time, you can notice the changes that occur with the inhabitants of your spot, how they interact, what their rhythms and routines are, and where new events come into play.
Accessing our local habitat to engage students in science allows students to demystify nature and the ecosystems that they live within. Over time, students notice changes in the plants they see, leaf structure, weather, even animals and birds. They tune into the natural cycle all around them, and this allows us to address scientific concepts such as nutrient cycling, conservation of matter, and abiotic and biotic changes within ecosystems.
At first, students are hesitant to enter the woods, and horrified they really have to sit down while in their "sit spots". But over time, they grow comfortable and request to go to their special place in the woods. They develop a sense of stewardship that carries over into the conservation lessons in the classroom. Also, sit spots is a wonderful way to integrate Indigenous Knowledge Systems into the Western science classroom. Learning to be silent, listen and observe over time is a very traditional skill.
It always helps to circle up at the end of sit spots and share what observations and thoughts came to your students. They often share beautiful drawings, poetry, and astute observations.