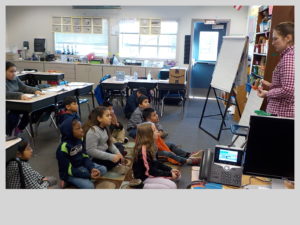 This school year I am a Climate Fellow, and it's been amazingly beneficial for my students. Thanks to this fellowship, we get to refill our water quality kits and we get to go out with the volunteers, like Anderson (Washington Service Corps member for Mason Conservation District), and with Rachel from ESD 113 to collect water from our creek. Rachel presented to our class before we tested water quality (right). Then we analyze the water and contribute with our results to real research. We know this is called "citizen science" and our students get very serious about learning to do the water quality testing in the right way. Actually, they even got to see the results of their citizen science during a Student Congress at Centralia Community College. Our students were very satisfied to realize that their data is being used to do real science. They also got to participate in several scientific presentations and they enjoyed being at the college.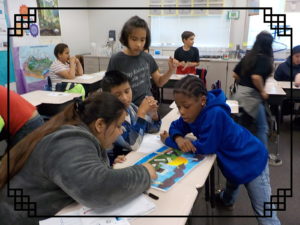 We also had the opportunity to plant trees this past winter. This was a favorite part for the students. As they studied the salmon cycle last year, and learned that salmon eggs need the right temperature to develop, they worked hard to plant trees that will provide shade to the creek in Skokomish Farms to protect the baby salmon in their run toward the ocean.
Finally, being a participant of Climate Fellows has given me the opportunity not only to learn personally more about our great environment in western Washington, but to involve other teachers at my school, and to provide better connections for my students.
I am enclosing some of the reflections that the students wrote and I hope that all our readers get encouraged to do one thing for the environment, especially, teach about the one thing you can do!
Submitted by Lourdes Flores, fifth grade teacher at Evergreen Elementary, and students. 
Why I Think My Field Trip Helped A River
Today I went  to Skokomish farm with my class. The people who helped us get to do this field trip are Ms. Echeverría, Ms. Jen, Ms.Rachel, Anderson, Tom, Justin, Marissa and Brayden. I think that we went on this field to plant trees to help water quality in a nearby river.
My first reason is because we did experiments to check water quality. And there were a few students selected to go to Centralia College.They went to talk and learn about water quality from our rivers and streams along with other schools rivers and streams.
The second reason I think the trees help water quality is because I went to Centralia College and a teacher there said that trees help the water quality. That was two reasons but if that didn't prove my point there is one more reason in the next paragraph. On to the next paragraph.
The third reason is because Ms.Rachel and Anderson helped us with water quality experiments. This was the last reason that I think we helped a river. I will tell you some facts about what we did on the field trip.
In conclusion I hope all these reasons make you believe that my hypothesis was correct. Also we planted about 500 trees *clap* *clap* *clap*. This is why I think planting trees will help water quality and that's what we did.
Tree Planting at Skokomish Farms
By: Teagan Gottfried
Today we went to Skokomish Farms, and planted trees. It was really fun! . The good part was it stayed sunny the whole time. I just wish i wore better clothes 🙁
We worked with Sra. Echeverria, Ms. Jen, Ms. Rachel, Ms. Anderson, Tom, Justin, Brayden &  Marisa. They were all very nice people! I personally would love to work where they do.
We planted so many cool different kinds of plants! And it was really cool. Some were small, some big, there were ones with leaves and even some were prickly.
I hope that someday I can help the world like I just did today! The favorite plant that i did today was probably either the maple plant or the snowberries.
To conclude this writing I just want to say I am glad that I did this today. And that I got to help the world and make it a better place! 😀
Tree Planting at Skokomish Farms
By: Camila Guzman Torres
The bus ride was about 30 minutes. When we arrived at Skokomish Farms Anderson passed out gloves. Then we followed Ms. Rachel to the site we were going to plant at.
They gave us a demo on how to plant the trees, and told us to ge in groups. I was in a group with Soni and Teagan. Together we planted 18 trees.
Planting trees was very fun. I would love to plant trees and shrubs again because it helps the salmon and the environment a lot.  It would help the salmon because the trees attract bugs therefore the salmon will have something to eat while on their journey.
We planted a variety of trees including maple trees, snowberry bushes, dog wood, Douglas fir trees, American cranberry bushes, and Oregon Grape bushes. This is why I would like to plant trees and bushes again at the Skokomish Farms.