Students from Marshall Middle School's Citizen Science Institute (CSI) program were invited to participate in Governor Jay Inslee's STEAM Alliance Conference on climate change. Just 15 schools were invited to attend from all of Washington state.Together with CSI teachers Matthew Phillipy and Tom Condon, students researched and presented information about the impact of climate change on the Capitol Lake estuary.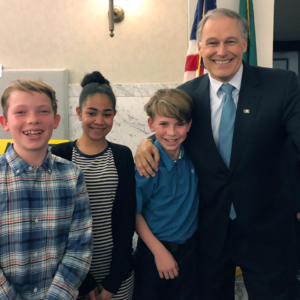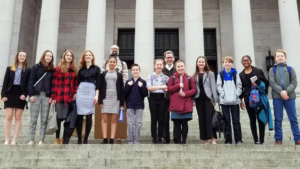 Instrumental in the day's success on the hill with students representing the school was the work leading up to it with our Thurston Conservation District program manager Stephanie Bishop.  Stephanie came to our school several times to work with our students as they explored how climate change has impacted our capital lake estuary. More than 75 years ago the state damned the Deschutes Estuary to create a reflection lake as part of the State Capitol's grounds enhancement.  While it was picturesque for many years, the ensuing years have resulted in significant sediment and invasive species including the mudsnail. It was a very exciting day for all the students participating that day to be able to go to the State Capitol and represent our school and advocate for change that will benefit our local ecosystem.
Submitted by Tom Condon, teacher at Marshall Middle School's Citizen Science Institute.