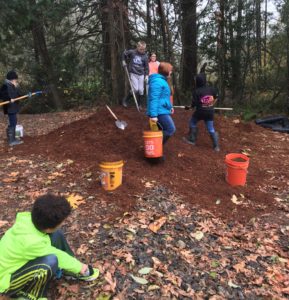 Sometimes it doesn't matter how dynamic of a teacher you think you are, when you look out at your students and see them nodding off, looking out the window and drawing on their hands, it's clear they need a change.  Hopefully your school is supportive of field trips, and you have access (or you make access!) to programs in your community who can help create outdoor opportunities. Field trips in nature are a sure fire way to have 100% student engagement!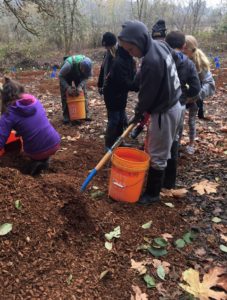 This was the case for a 5th grade class who was to help plant a wetland that was formerly the site of an old homestead.  Thanks to the South Sound Green program who provided all the gear and paid for the school bus, students were happily put to work on a property over 100 acres with beautiful mature forests and saltwater access.  From the moment they got off the bus, to the long trail down to our site to choosing the right size boots and gloves and shovels, the students were curious and eager. Almost right away a student exclaimed, "I would like to come back to see the plants grow."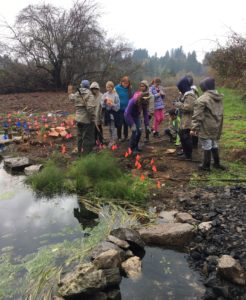 We are blessed here in the northwest with 2 mountain ranges and the Pacific Ocean all within an hours drive from our city.  That does not mean, however, that kids have been able to get to those places. So what makes a trip like this even more fun?  When it's the first time for some kids to be in a forest and down near a beach. Who knew someone could be afraid of a banana slug?  
Besides helping to plant native species, students also had the opportunity to spread mulch to help protect the plants.  Because it was formerly a homestead and farm, students also noticed and uncovered years old garbage as they worked and dug.  So not only was there a sense of accomplishment in restoring an area to a healthier ecosystem, there was also the thrill of the hunt and the satisfaction of leaving a place cleaner than when you found it.  One student remarked, "When we were planting, we found lots of trash. It was cool when we found it, like a treasure hunt." And the thoughtfulness of another student thinking more about the impact of leaving garbage behind in the natural environment.  "It was upsetting, all the trash we found. Animals can get hurt by it."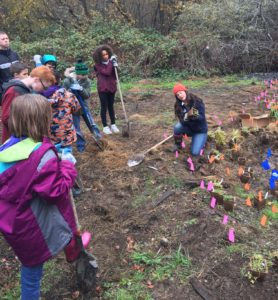 To top the experience off, there was a yummy apple tree to munch on and hot cocoa to celebrate a job well done.  I can guarantee you, these students, even after they leave your class and even after they graduate, if you see them again, this field trip is what they will remember from your whole year together!  Plus, when will you ever hear a student say, "Digging is cool!"
Submitted by Christine Rayburn, former teacher at South Bay, current volunteer.